Leaving Cincinnati, I decided to cross the Ohio River into Indiana at the last minute with some planning help from Tom in Cincinnati. The Indiana side of the river was much more flat. In the early evening I made it to Hanover, a small town along the Ohio River. It started to downpour shortly after I arrived and I got cover under the porch of a local barber shop. The rain and wind were awful and riding would've been near impossible. The barber was nice enough to invite me in and let me use his phone book for hotels in the area since my reception was poor. As it turned out, every hotel was either booked, or was way beyond my price point. So the barber called up a friend of his who is a pastor in the next town over, just over 5 minutes away. He was nice enough to come pick me up out of the rain and drive me over to his church. He unlocked it and let me use it to sleep for the night.
The following morning I rode on to the outskirts of Cincinnati. The ride was good, mostly. At one point my GPS instructed me to leave the more major road and travel down a much more beaten path straight own into a valley.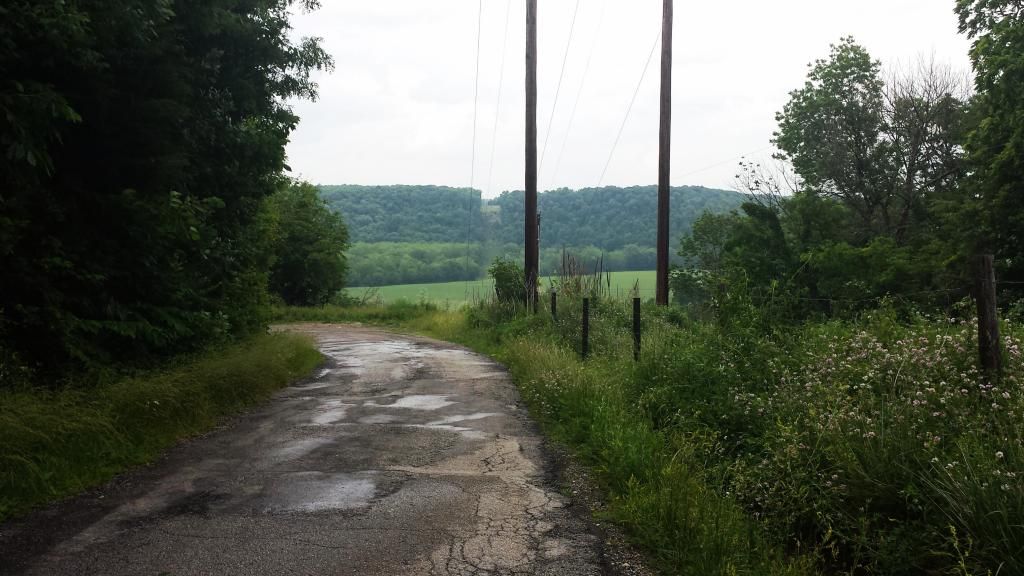 Checking alternate routes, it looked like the only other way across the river ahead on the map was about 10 miles away... So down I went! It was awful, it was really steep and the road was full of pot holes all the way down. As I descended I got a good view of the valley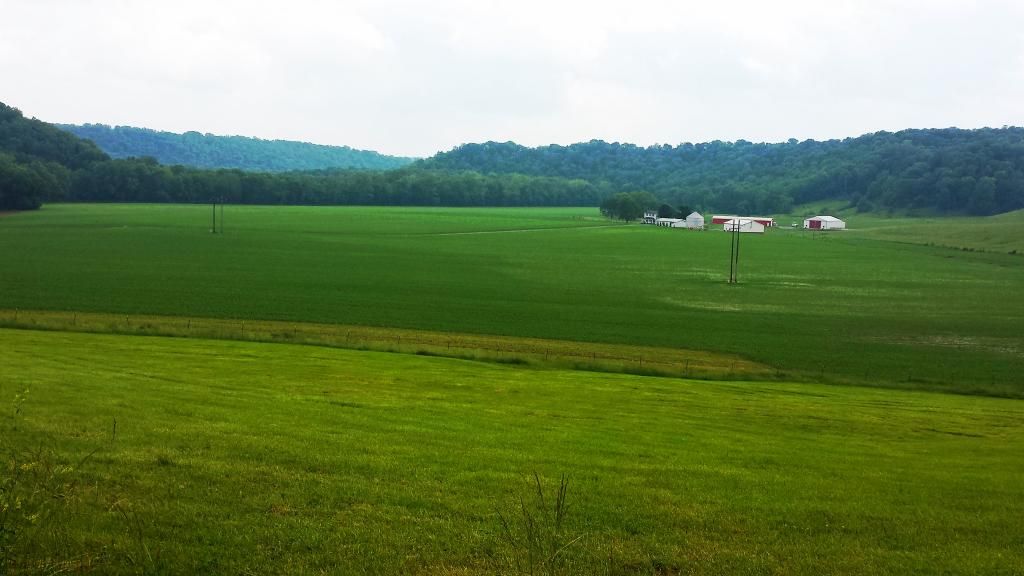 Once I hit rock bottom (literally) the road turned to gravel which was a pain to ride over. I was regretting this decision more and more as I rode. Until I finally came to this sign: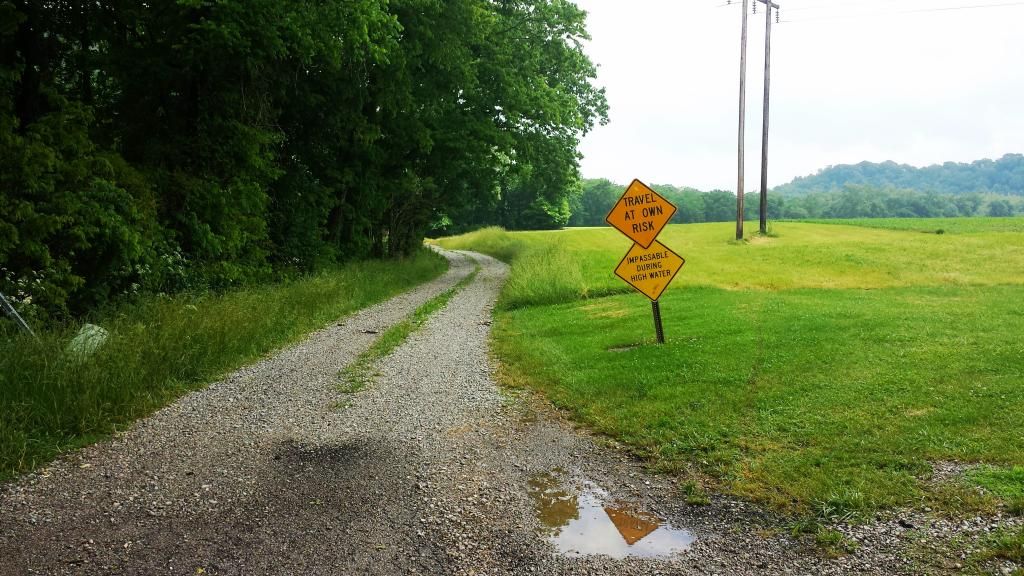 Not what I wanted to see! Considering the heavy rain the previous night, I was pretty unsure about this path... As I rode on, I got a good look at the river.
Not too far in after that sign, my road turned into river...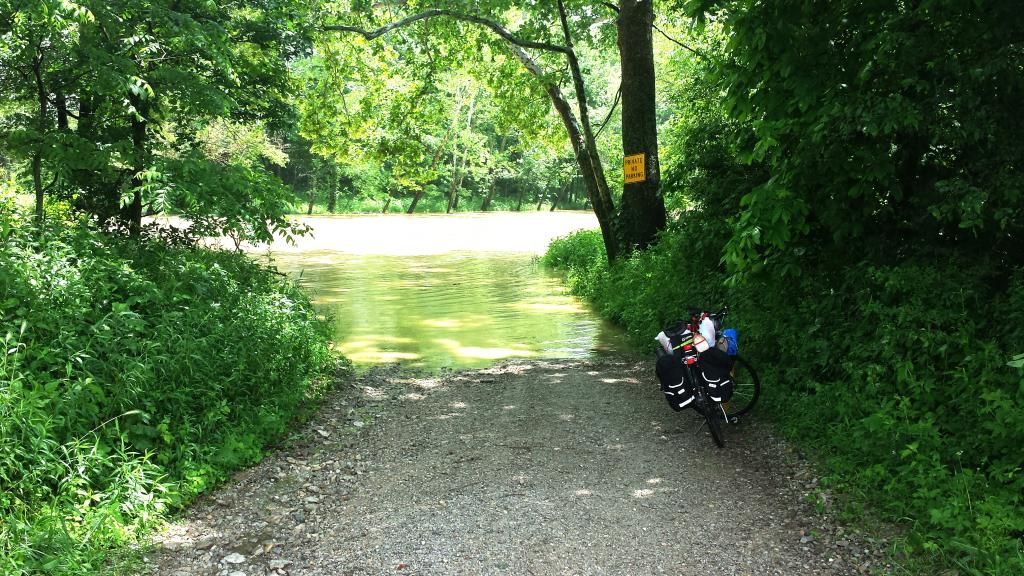 Oh well, the climb out of the valley was pretty brutal, and I just headed straight north to the town Versailles to grab a bite somewhere quick and move on. Luckily it was mostly downhill from then on, so it wasn't too bad.
I stopped just on the Indiana side of the border where I met up with a couple, Jeff and Diane, whom I contacted through warmshowers. They were fantastic, they have a cottage which they let me use for the night about 20 minutes away by car. They let me store my bike in their shed and drove me over to it in the evening and even treated me to dinner at a local restaurant, and they picked me up in the morning.
Leaving their house in the morning, I arched north and around Cincinnati. I didn't want to deal with traffic. The hills were pretty bad going around that city. I hit them nearly first thing in the morning, and it took me forever to get through them with the constant headwind I had blowing against me... By the time I got through them and onto the Little Miami River trail, I was really worn out and it was getting late. I ended up reaching my destination campground at around 11pm. Since the offices were closed, I just left a voicemail telling them which site I took after picking an empty one and helping myself to it. The following morning, I spoke to the owner and he was nice enough to give me a bit of a deal since I'm traveling by bicycle!
Moving on, it was bike trails the whole way! I called up the local fire dept of London, OH in the late morning. My number was passed on to Madison bike group who manages and maintains the trail in and through London. Wayne, the gentleman who contacted me, called up the local police station and informed them I'd be stealth camping at the trail head on the ege of town and not to bother me, to which they agreed. So with that done (and two flat tires later), I arrived in the evening and he visited me to showed me around a little. The following morning, I woke up to an organized ride consisting of over 100 local bicyclists. I chatted with a few folks while I waited for my camping gear to dry. There was a bike shop owner with a portable shop built into a trailer for his car. His shop is called Bicycle Revival. He gave me a map and let me use some of his tools to inspect my bike and grease up my chain. Leaving the trail head, I stopped at a local coffee shop that Wayne referred me to called the London Coffee Peddler. Mike Michael, the owner, is big into bikes too. Wayne told me to chat with him if I caught him. He gave me some good info about the trails around Ohio and gave me a couple additional maps. FYI he's a good resource for bike info if anyone is ever in London. It was almost weird how many cyclists were everywhere in that town.
Leaving London, I had a fairly uneventful ride to Columbus. I made it to the Wayfaring Buckeye Hostel. This hostel is much smaller than the one in Nashville, but it's nice. It's a two story duplex home with one of the rear walls cut down to join the sides. The people are friendly and it was just what I needed for a break day. I got here Saturday night, and now it's monday morning and I'm getting ready to head out.