Leaving Serenity Hill bed and breakfast, I made it to Hodgenville which is Abraham Lincoln's birth town! I was planning on camping out behind a church when I realized it was going to downpour all night. I was looking around for hotels in the area, but there were none around except for one lodging. This place rented out entire houses, which was a bit much, but I was still considering it depending on it's final price. I gave them a call and the woman I spoke to was very nice and was clearly concerned about me being a bicyclist. She wanted to give me a discount and was clearly torn about how much. The ongoing rate was 55 a night, and she was going to give me a cabin for 40 if I was willing, which was good enough for me. I biked about 4 miles over to their location through dusk into the evening, and when I arrived the couple who run the place was nice enough to offer me a spare bedroom in their own house for 20 dollars instead of a whole cabin to myself! I took them up on their offer, they offered to share some pizza leftovers with me, which I refused since I had recently eaten a subway sub I bought earlier in the day.
That morning, they shared breakfast with me, and I packed up my stuff and took off! While on the highway in Elizibethtown I encountered a motorcyclist at a stop sign who I got into a brief chat with, he told me about a Dairy Queen half a mile up the road, and that he wanted to buy me some lunch and chat with me. So I took him up on his offer and pulled in. We ended up chatting for a better half hour to 45 minutes before finally parting ways! (Speaking of; if you read this, I totally forgot your name, so let me know) He gave me a few bucks as well to get a nice dinner in Louisville once I arrived!
On the way, I rode by Fort Knox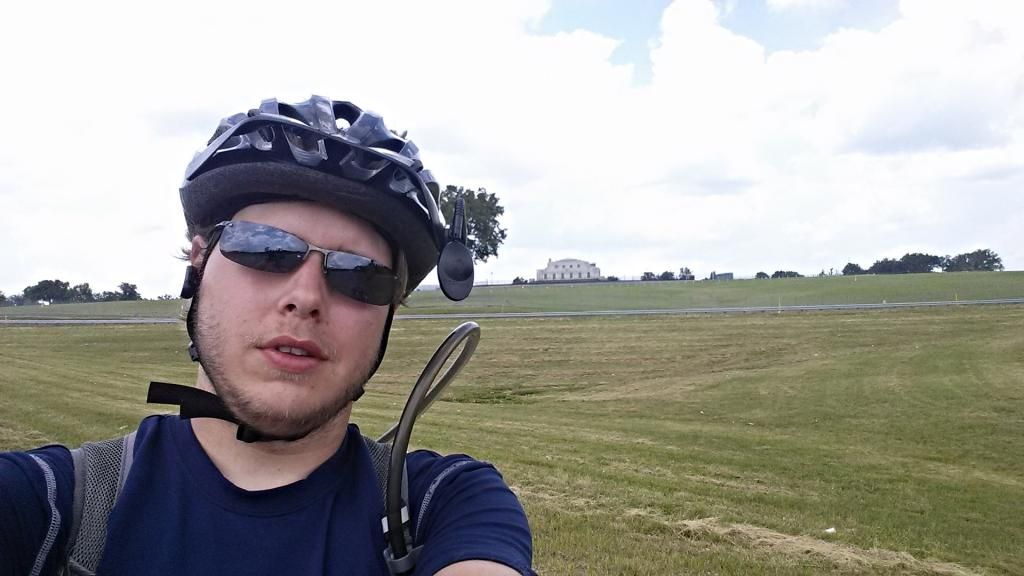 Shortly after, I hit the biggest downhill yet! I broke my previous loaded speed record of 37mph by going 42mph! From there it was pretty flat, smooth riding; until the storm hit...
I video'd a minute of the thunderstorm
The storm snuck up behind me, in front of me it was clear skies and sun. Behind me, however, was dark and stormy; I didn't see it coming until it was already here. I rode in the heavy rain for a few miles until the thunder and lightning started flashing all around in front of me. I saw a porch of what looked like a strip club, so I rode in and hid under it. (Too bad they weren't open otherwise I'd have gone in to get a beer at this point...)
I've been in contact with a nice woman named Melanie. She's founding a Sudbury school here in Louisville. For those who don't know, a sudbury school is the model school which I got my high school diploma from. (http://www.sudval.org)
Melanie lives right on the other side of the Ohio river, and she reached out to me and was nice enough to come pick me up out of the rain. I was in the city limits of Louisville at this point, albeit on the way outskirts in the far corner... Melanie set me up with a nice couple named Tom and Dorathy who let me use their guest room for the last two nights! While here in Louisville, I stopped at a bike shop and got a few new items for my bike!
I got a new set of shoes and pedals!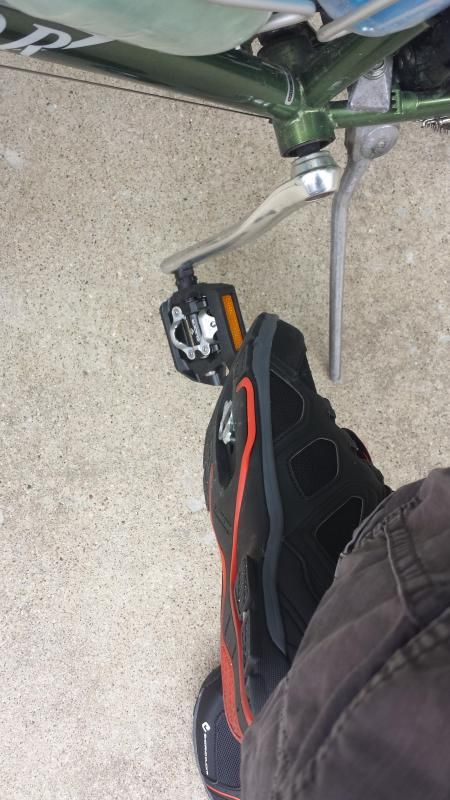 They have clips on them that lock my shoe to the pedal. That way I can pull up with one leg while the other pushes down.
The bike shop I was at was also nice enough to give me a seat that they had lying around, which was an improvement to the one I've had this whole trip!
Tom and I went out to a bar and grill called the Silver Dollar. They had a huge bourbon selection. They let you do sampler size bourbons, so we got 4 local varieties which was great.
Today, Tom rode with me to the Indiana line before heading home. We rode through a couple scenic parks in Louisville before reaching and crossing the Ohio River. I'm at a small lunch restaurant right now eating an early lunch before hitting the road for the day.