After writing yesterday's post. I left Florence and headed back to the trace. I got there with a decent amount of day left, but the next campsite forward was another 30 miles away and I wasn't entirely confident I'd make it with less than a half a day remaining. So I went south to the much closer campsite Colbert Ferry on the Tennesse river.
I arrived at about 5:30 and was greeted by a couple on their own tour, Sherri and Hutch, who already had their camp set up at the secret bicycle only campsites. I got myself set up next to them. As I was finshing up, another touring cyclist, Joe, came rolling in and ended up pitching up right inbetween us!
These were our sites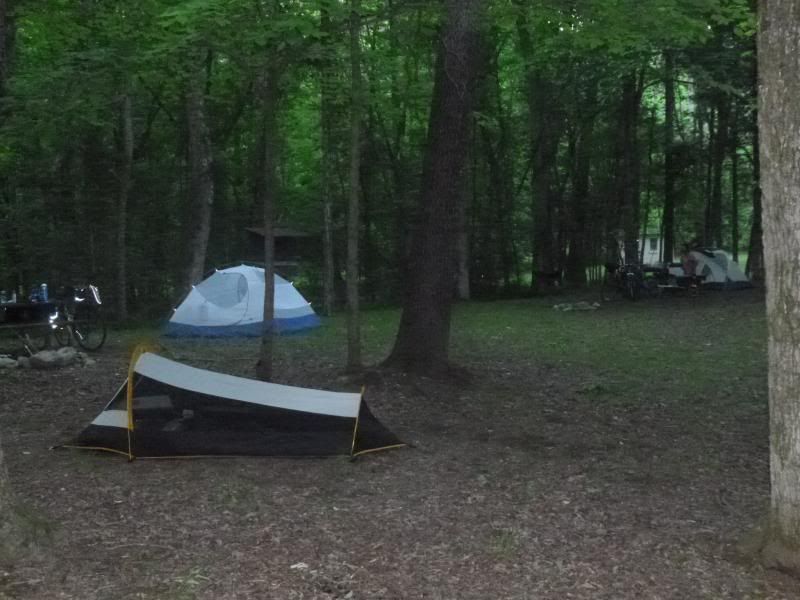 After we all had some time to mellow out and unwind, we pulled out my playing cards and we played cards while chatting for a couple hours until around 10pm. The bathroom was unfortunately a good mile down the road, and down a pretty dramatic little hill at the boat docks for the river. After our game, Joe and I rode down there and chilled on the pier for 15 minutes and observed the stars since the area had very little light pollution. Definitely the best night sky I've seen yet. I could begin to see clusters all over, but it wasn't dark enough to quite grasp them. I brushed my teeth, refilled my water and rode back up to camp. Pretty uneventful from there, except for one part of the night where some of what I would guess were coyotes started howling REALLY loud nearby for like 10 minutes. It sounded like they were right outside the tents it was so loud! But, it ended as abruptly as it started and the night rolled on by.
That's just for yesterday
First! I saw a big snake: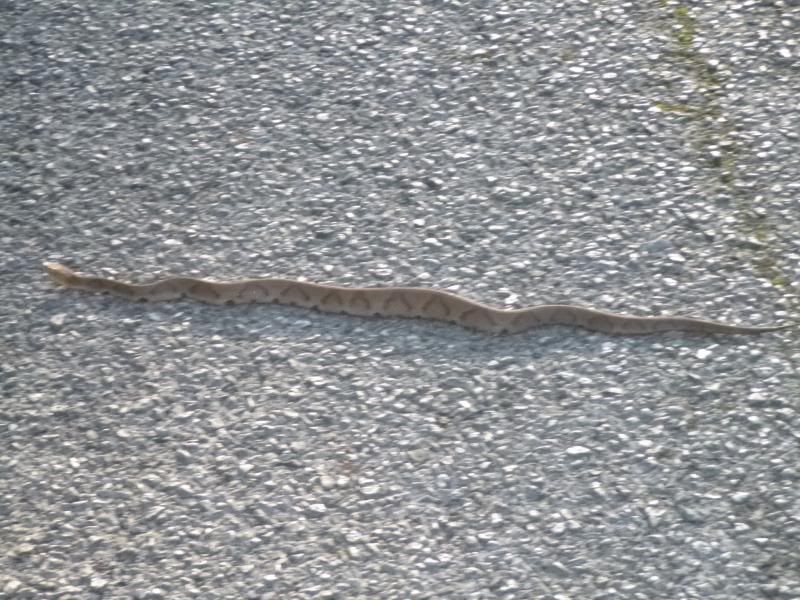 Shortly after setting out it was time to cross the Tennessee river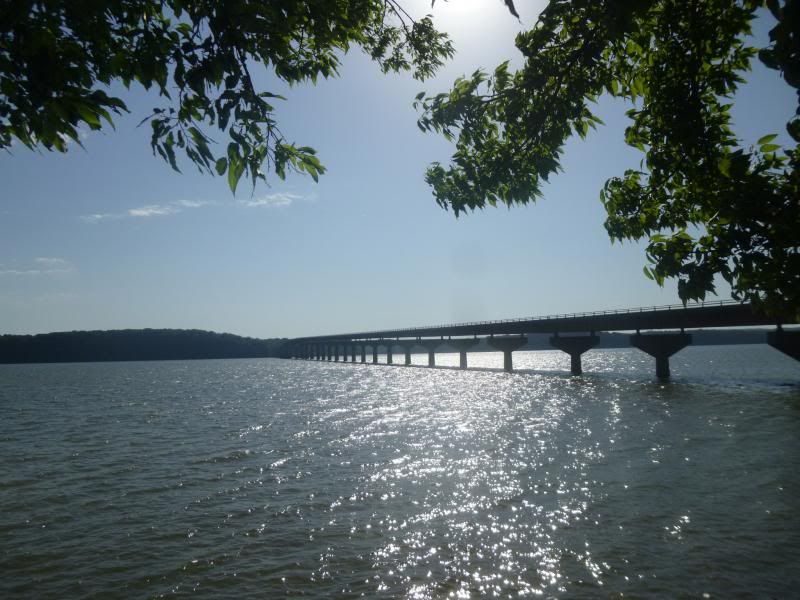 Later in the morning I stopped at Rock Spring. It's a popular humming bird spot on their migration path. Apparently if I had arrived less than a month sooner there would be as many as hundreds of them all over the wild flowers at this spring.
Crossed the stream on these cool stepping stones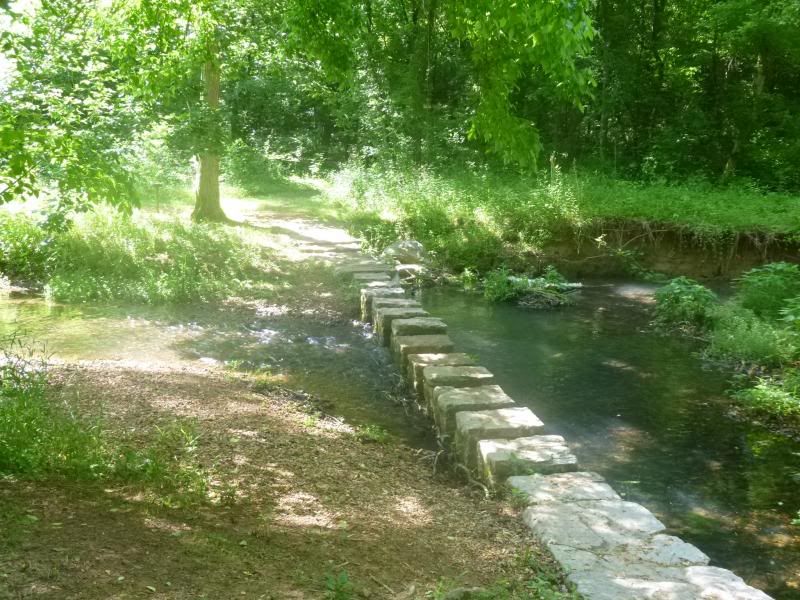 There was a path that followed the steam up the current which revealed some deeper water pools that formed from dams that had been created by mostly beavers. They were all abandoned at this point, but they're standing tall. There was 3 pools that were visible and each one had a higher water level than the one before it, slowly leaking into the next pool until finally making it back into the stream.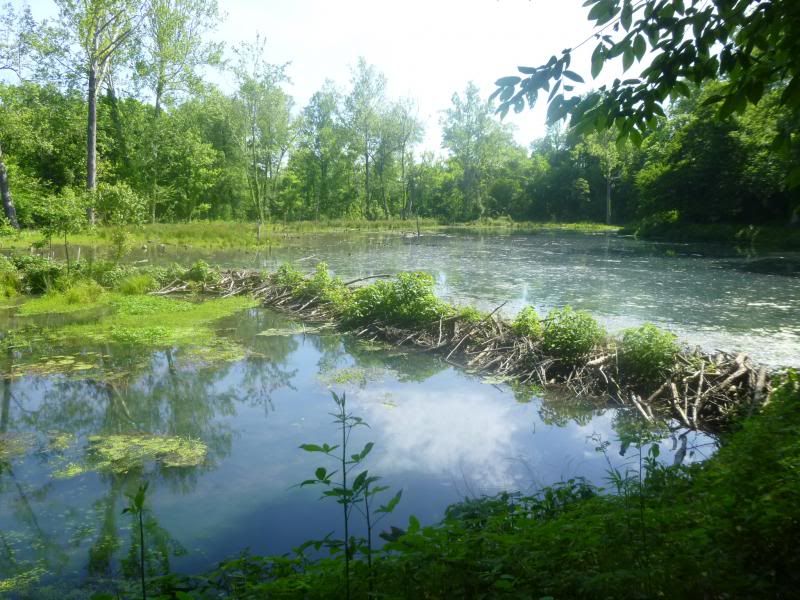 I also stopped at cypress creek which is a nice little picnic spot with a clear running stream along the back. There weren't any bugs buzzing about so I thought I'd take a break and cool my feet!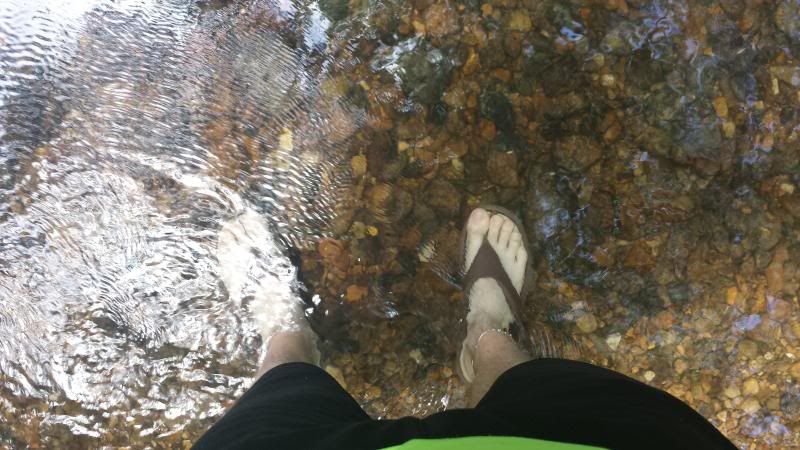 The water was super cold and it was amazing!
I made it to a super tiny town called Collinwood this afternoon. I decided to stay the night since the next campsite is going to be another 35 miles away. Another tourist rolled in a half hour after me. The town's welcome center was nice enough to call the fire department to request they keep the fire house unlocked for us tonight. That way we can use their shower, bathroom, TV, wifi and kitchen!
I used their sink to do my laundry as well which was nice!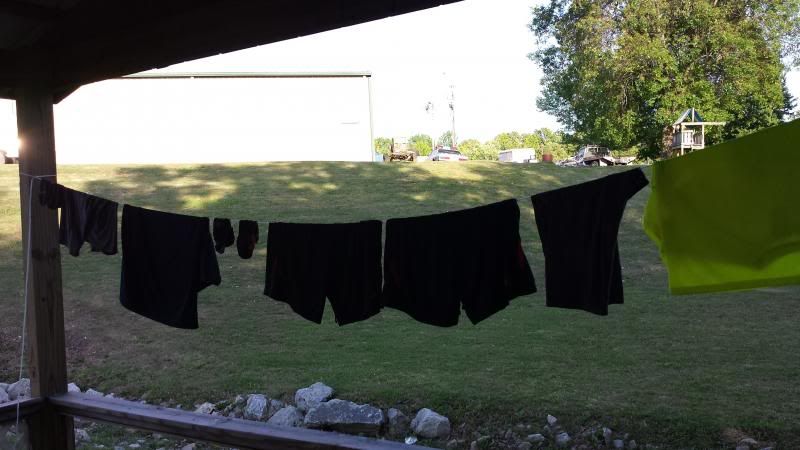 Huzzah for clean clothes!!